Tis' the season to be jolly and no one knows this better than the UK's retailers!
Yes, all of our Retail apprentices will be extremely busy in the upcoming weeks as they deal with hordes of hungry shoppers intent on getting their Christmas shopping done.
So, in order to help our Retail apprentices boost their sales this holiday season, here are some tips on how to take advantage of the Christmas craziness. Enjoy!
1. Go All Out with the Decorations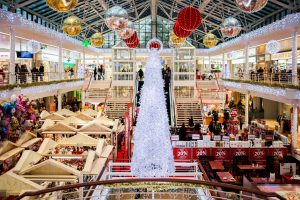 You'll no doubt have decorations in your shop already – after all, a shop without holiday decorations at this time of year will not have a good Christmas in the least. So go crazy to stand out from the crowd! You really need to wow with your window display first to get shoppers into your beautifully decorated store.
The traditional green and red colour scheme will no doubt be over-used, so why not try something different? For some inspiration, check out these best Christmas window displays from around the world. If you need some help thinking outside of the box, then check out what this Greggs opposite the famous Fenwick window display did!
2. Social Media Is In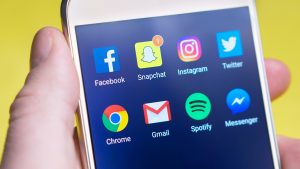 Social media has never been hotter, so make sure to use your social media channels as much as possible this December! Social media is the perfect platform for attracting new customers and interacting with your current ones so that you can build strong relationships and increase brand awareness. So make sure to advertise your promotional offers, take pictures of your wonderful shop displays and even throw in a Christmas contest or two!
3. Customer Service Sells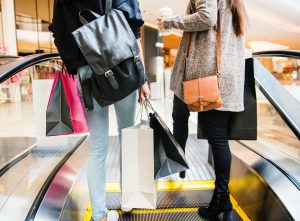 We know how stressful the holiday season can be for you and your employees, but your customers are also under a lot of stress as they deal with long queues and crowded shops. So, this December is the perfect opportunity to provide the best customer service possible to differentiate yourself from your competitors. A great shopping experience can keep your customers coming back to your shop again and again, maximising your holiday sales. It can also turn your customers into brand advocates so that they recommend your shop to family and friends.
Make sure you train your staff to stay polite and knowledgeable as they serve customers. You should also warn them of the large crowds and ask them to keep as calm and collected as possible. A good tip is to also ensure that your shop has hired enough seasonal employees, if needed, to remain adequately staffed.
4. Focus on Upselling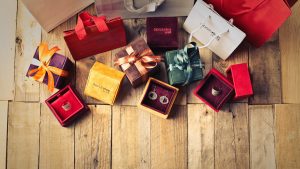 People are much looser with their wallets in December, so telling your employees to put a real focus on upselling will do wonders for your sales numbers. Make sure that you've put thought into the product pairings ahead of time. Your employees should know which products can be grouped together so that they can effectively upsell when the opportunity arrives.
Another good tip to upsell is to recommend a more expensive counterpart for a product that a customer has decided to buy. So, if they're buying, say, a phone, then try to slide in and recommend a more expensive but high performing model.
5. Provide Free Gift Wrapping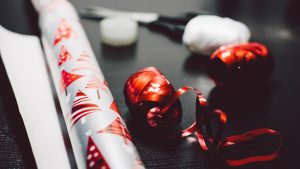 Offering free gift wrapping will save your customers time and money as they won't have to hectically wrap all of their presents on Christmas Eve. It may even entice the stray consumer to your shop once they see that you offer free wrapping.
You could also pre-wrap a few of your most popular items. They'll add more Christmas decoration to your shop and may also encourage your customers to buy those items as they won't have to wrap it themselves when they get home.
6. Support a Charity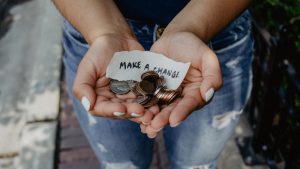 Christmas is the season of giving, and there are loads of local charities that you can support this December. TQUK is going to donate goods to our local foodbank as we're never one to shy away from kindness! Donating to a charity will not only help your local community, but will also help your business as your customers will have a greater appreciation for your brand. Your employees will also be happy to work for a business that cares about its community which will boost staff morale and improve your retention rates.
~
And there you go! A few tips to help all of our Retail apprentices boost sales this Christmas.
To keep up to date with the latest news from TQUK EPA, return to our blog or follow us on Twitter, Facebook and Instagram.
See you around The Hive!