A Commis Chef is the most common starting position in many kitchens and in principle the most junior culinary role. A Commis Chef carries out basic cooking tasks and prepares food under the supervision of a senior chef whilst their primary objective is to learn and understand how to carry out the basic functions in every section of the kitchen.
Therefore this apprenticeship provides the apprentice with the opportunity to experience, consider and value each section with a view to choosing an area where they feel most inspired. The learning journey of any chef will vary considerably from one individual to the next; however, it is necessary to understand and have experience in the basics that this role provides in order to progress to any future senior chef role.
End-Point Assessment Components
On-Demand Test
Culinary Challenge
Practical Observation
Professional Discussion
On-Demand Test
A 90-minute On-Demand Test with scenario based questions must be completed. This will be externally set and marked automatically by the assessment organisation. This will be undertaken either on the employer's premises or off-site.
Culinary Challenge
The apprentice will use the Culinary Challenge to display both precision and creativity. This is a two-hour observation in a controlled environment and involves the production of a two-course meal in two hours from the organisation's menu. The apprentice will discuss and agree on the dishes with the independent End- Point Assessor at the first meeting and they will prepare a full recipe with time plan prior to assessment.
Practical Observation
The practical assessment is an observation of the apprentice in the kitchen environment and must include customer interaction. During the three hour observation, the apprentice should have the opportunity to demonstrate competence in preparation, cooking service of dishes in order to best demonstrate how they have applied their knowledge, skills and behaviours in a real-work environment to achieve genuine and demanding work objectives. Time here may be split to cover preparation and service.
Professional Discussion
In the concluding assessment element, the End-Point Assessor leads a 40-minute discussion with the apprentice; this includes 10 minutes to review recipe logs. The Professional Discussion is a structured discussion between the apprentice and their independent End-Point Assessor. The employer will be present at this discussion to provide further examples and support (but not lead) the apprentice. The employer in no way scores the discussion.
More Information
If you would like to learn more about the Commis Chef apprenticeship standard, check out our factsheets page or alternatively you can find more information via the Institute for Apprenticeships website.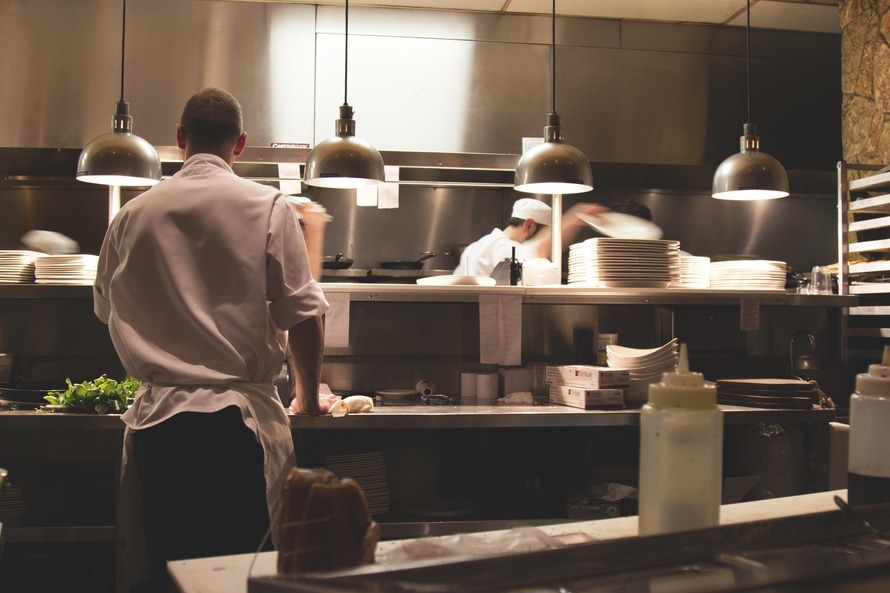 Funding Band:
11 (£8,000)
Fee:
£1350
Payable at registration: £337 (25%)*
Payable at Gateway: £1013 (75%)**
(+£100 surplus if Face to Face Professional Discussion)
Functional Skills:
Level 1 Award in Functional Skills English (Attempted Level 2 Award in Functional Skills English).
Level 1 Award in Functional Skills Mathematics (Attempted Level 2 Award in Functional Skills Mathematics).
Industry Requirements:
Completed prior to enrolment: Level 1 Functional Skills in English and Mathematics
Completed prior to completion: Competence clearly evidenced by the on-programme progression review meetings and records
Completed Recipe Log
Payment Terms:
Training Qualifications UK will invoice for payment at the registration phase (25%) and upon the gateway process (75%). Payment terms 30 days.
Download Factsheet
*25% registration fee is transferrable to a new registration should an Apprentice withdraw from the apprenticeship. Upon receipt Apprentices, Employers and Training Providers will gain access to the TQUK EPA management suite.
**75% fee paid at gateway in non-refundable as we anticipate that once the apprentice has passed through gateway they will be ready to undertake the end-point assessment elements. If the 75% payable upon gateway is not paid within 30 days of invoice we, as the EPAO, will put a hold on any end-point assessment activities being undertaken and any certification processes.
Training Qualifications UK offers one free re-sit per multiple-choice test where included within a standard. Element assessments re-sits will be charged per assessment and standard