In this week's installment of A View from the Inside, we chat with Kelle McQuade, TQUK's Head of End-Point Assessment Organisation, about EPA, the Apprenticeship Levy, her pride in helping learners and what employers and training providers need to think about when conducting an End-Point Assessment.
~
When I Grow Up…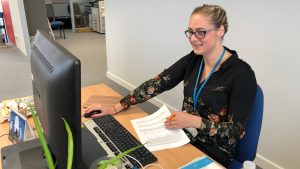 Where are you from?
I started off in Milton Keynes, moved to Nottingham for ten years and then moved back to Milton Keynes for a long while… almost 25 years now!
Did you go to college or university?
Did A levels at college — French, Drama and History.
Why those?
Some of that was driven by my secondary school teachers. I had this one great French teacher. There were only three of us in her class at A level so the teaching experience was very close. History, I loved. I had another great teacher. He's still teaching Music now and also just made his first movie. He was brilliant. And Drama just because I'm ever so dramatic.
What do you think your younger self would think of you today?
I think she might be surprised. I'm a little too sensible. I always wanted to be an ice skater. I equally thought I would do something within the performing arts. Turns out I can't act, so that was out. But I definitely didn't think I'd end up in education.
Would it really be so surprising?
When you're young, you're told you can do anything. You think you'll grow up to be an actor or an astronaut. But then you turn around and say, "Hang on, this job that I was only supposed to be in for 15 months turned out to be a 15 year career." You let things grow organically and learn not be too prescriptive about taking a particular path.
Beginning in education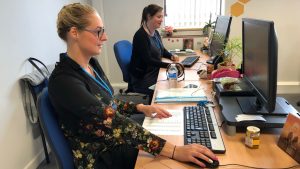 When some people look back on their careers, they see the path they took as almost inevitable. Did that ever happen to you?
Yeah, actually.
The first teaching role I had was working with NEET learners aged 16-25 through the Prince's Trust trying to give people a second chance.
It wasn't a traditional classroom setting. When I was working at the leisure centre, I set up a rookie lifeguard programme. It was for learners who had been on their swimming lesson programme and wanted to know what came next. It kept them engaged.
We applied and got accredited to deliver the course. It was from there that a couple of lessons got taken on by a couple of schools. One of them was in one of the more deprived areas of Milton Keynes.
Sometimes, the internally suspended students would end up in our bar area. When the PE lessons were happening in the leisure centre, they weren't allowed to take part, but they also weren't allowed to be home. I ended up just talking to some of these students.
I remember one of them gave me so much abuse. He wanted to call everyone every name under the sun. But one day, I said to him, "What happens if I tell you my name, and you call me that?"
I don't know how it happened, but it worked. The next time I saw him he was like, "Oh, Kelle mate, how are you?" And I thought, "Wow." So I said, "I'm good, how are you? How was your day?" He'd say he wasn't back in lessons yet because this happened and that happened, so we sat down and had a chat. Every time he came in he seemed a little bit calmer and a little bit more respectful to the staff.
Did you keep in touch with him?
I still see him. And he seems to be a very well rounded person, very lovely. Lots of my students have gone on to do some really wonderful things.
MKC, TQUK and EPA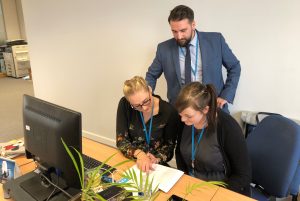 You were Head of Curriculum and Innovation at Milton Keynes College. What did that involve?
I was in charge of quality and professional development. That meant I organised cross-college teaching and learning fairs, looked after the teacher training curricula and reviewed our assessor and IQA qualifications. I also had a team of innovation leaders — outstanding practitioners who taught maybe ten hours every week and taught other members of the training staff to develop their practice. We asked ourselves: what could we do to improve the learner experience and make sure that teaching, learning and assessment were as good as they could be? We wanted our learners to achieve the best results, whether that meant going for jobs, applying for an apprenticeship or going into higher education.
What was your first impression of TQUK?
Very different from other Awarding Organisations. Talking to Andy didn't feel like a sales pitch. It felt very relaxed and open. He seemed to understand what training centres' frustrations were. That certainly struck a chord with me. I was head of quality and point of contact for all Awarding Organisations when I worked at the college. There were frustrations with other organisations and how they operated. So there was something different about what TQUK were offering.
When you started at TQUK you were BDM, then moved to head of EPAO. Could you talk more about that?  
It was almost a natural transition. My background lent itself a lot more to EPA. It was brilliant to be involved with creating the EPAO from day one. I was already involved in the thick of the EPA conversations, looking at the directions we might go in. We needed to identify a decision maker and I guess I was just best placed. When it came down to the day to day nitty gritty of EPA, that was where I needed to be.
When you came in, the whole sector was getting used to the new reforms. What was it like to jump into a new regulatory landscape?
Coming from a college into an Awarding Organisation is so different. I don't think I really appreciated all the work that an Awarding Organisation does. I certainly underappreciated the massive amounts of work that TQUK does with the staff size. When I started, I was overwhelmed and impressed with what was being achieved by the team. I still continue to be.
But I think coming in at a time whilst I was having to learn all about awarding and not having been exposed to the behind the scenes aspects of that before, there was a certain comfort that everybody was learning about EPA at the same time. You're laying the track as you go along with everybody else. Unfortunately, that means that sometimes the information you need isn't there yet — we're still experiencing that on a weekly basis. I get impatient — I want everything to be perfect, and I want it to be perfect right now!
Guiding employers and training providers through the final assessment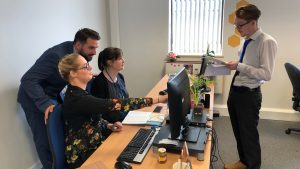 What's one question you get asked by employers or training providers that you hear too often?
What we seem to get asked a lot about recently is the 20% off-the-job training. Sometimes with that, it's just a matter of linking people to the right information. We also get a lot of questions about VAT and how that's different for levy and non-levy payers — where the cut-off points and the variations are. These things can get pretty complex and they need to get sorted out.
What's one thing you wish employers or training providers knew already going into EPA?
The one thing I would say is that just because it's called 'End-Point Assessment' doesn't mean they don't have to think about it until the very end. You need to start thinking about it at the very beginning because you need to know what that assessment is going to look like. We expect to have employers or training providers knocking at the door saying they've got a learner at Gateway, can we help? People should come to us at the start. That way, we could advise on the best practices throughout the process. We expect to see that shift over the next six months.
In the FE media, the reforms seem to be fairly controversial. Employers and training providers are raising concerns about how to implement the off-the-job training requirement and how the Apprenticeship Levy isn't working. How do you address those concerns and still get people on your side?
One thing we always try to do is take the headache away from the partners we work with. We make it clear from the beginning that we know what we're doing and understand assessment. We were very early to market with EPA so we learned some very valuable lessons with an initial low volume of learners. We're now so well-versed that the volume has increased massively and we're able to pass those key messages and lessons onto employers. It's important for us to be that calm face that can offer reassurance and provide answers where we can. And where we can't, we're able to make some pragmatic, educated assessments of the situation. We have a reputation for being one of the best and most knowledgeable EPAOs in England — and we want to keep it that way.
Thoughts and reflections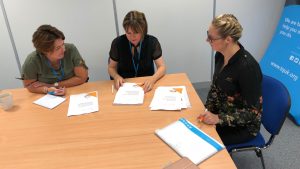 Looking back on your time in education, what's the one thing you've accomplished that you're most proud of?
I'm really proud when I see a learner — whether it's a student or a member of staff — achieve their goals. I get to think, "I had something to do with that." Those are the things that matter, and that's why we do what we do — to see the end product of the services we deliver.
What about situations you look back on that make you think, "I could've done that better"?
When I was first teaching the NEET program covering social skills and social development, half my students were older than I was. Sometimes, you can struggle when you're trying to offer help and it isn't being accepted. But it isn't until you're a bit older that you can reflect back and think, "They weren't in a place to acknowledge or receive that help. It wasn't about you. It wasn't personal."
You're one of the only real athletes in the office. Was exercise always a big part of your life?
I've always been very sporty, played hockey and netball. I've always been very accident-prone too. As we sit here I'm three weeks into a sprained ankle. (Laughs.)
Where do you see yourself in ten years?
Mai Tais on a beach! (Laughs.)
Professionally, who knows? I don't try to predict these things – the landscape in education is always changing. If you told me two years ago I'd be head of EPAO for an Awarding Organisation, I wouldn't have believed you. I just enjoy the ride.
Lightning round!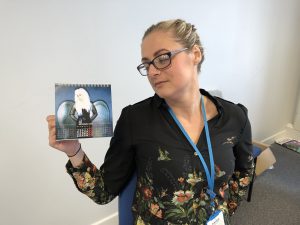 You've now entered the lightning round! You must answer the following questions within 3 seconds or less!!
Oh God!
Who do you think would win in a fight: old Godzilla or new Godzilla?
Haven't seen either, so couldn't say.
Men or women?
Women.
How many streets have you lived on?
Too many, probably about 20.
Favourite member of Take That?
Gary Barlow.
What animal does Ash have tattooed on his arm?
I think it's supposed to be a bee but it ended up being a wasp.
Love Island or Survivor?
Neither!
Favourite person in the office?
Katie, for sure.
Biggest pet peeve?
People who eat too loudly.
Favourite flavour of Fanta?
Lemon, but only while on holiday.
What is the meaning of love?
When you feel fizzy.
Like Fanta…
Yeah.
Thanks for your time!
Thanks!
~
To keep up to date with the latest news from TQUK EPA, return to our blog or follow us on Twitter, Facebook and Instagram.
See you around The Hive!