Working life has changed for almost everyone in the country, with remote practices now vital to help with self-isolation and social distancing practices. The world of Apprenticeships is no less affected by the coronavirus outbreak, with remote assessments now a vital necessity to keep Apprentices moving through to completion. 
Thankfully, a great number of the Apprenticeship Standards that Training Qualifications UK are able to assess Apprentices on can be remotely invigilated.
This means that End-Point Assessments can be carried out and completed during this difficult time and Apprentices are still able to complete their apprenticeships as planned.
Which Apprenticeship Standards can be assessed remotely?
You can see via the table below which of our Apprenticeship Standards can be assessed remotely.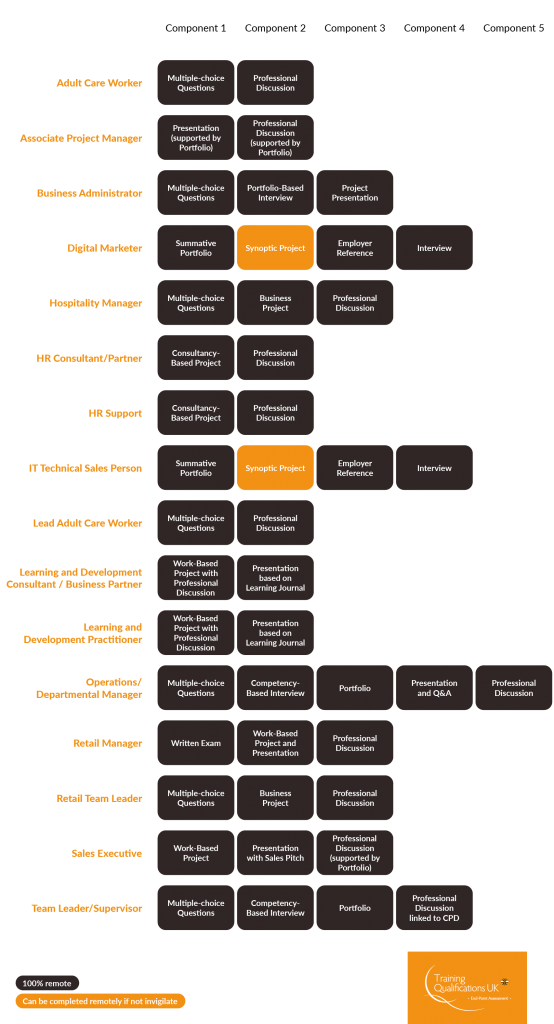 What is remote assessment?
Remote assessment is the ability to invigilate an Apprentice on an assessment component via technology rather than face-to-face. It provides the perfect solution between End-Point Assessors and Apprentices, ensuring that assessments can take place in as many situations as possible, when required. You can find out more about the advantages to remote assessment methodologies here.
Are there any additional costs for conducting assessments remotely?
Not at all. All assessments can be carried out as normal and within the usual fees and pricing structure.
What about any retakes?
Please consult our EPA Retake Fees document for more information on this matter. 
I have an End-Point Assessment booked in as a face to face but would like to switch to remote assessment, how do I do this?
Absolutely yes. At this time we are actively encouraging all assessments where possible to be undertaken as remote assessments. In line with government advice we are practising social distancing and as such daily reviewing and updating our ability to offer onsite assessments.
For more information on how we're dealing with the coronavirus outbreak, please visit our FAQ page. You can also get in touch with the End-Point Assessment Team by emailing epa@tquk.org or calling the team on 03333 583 344.