I joined TQUK back in August of 2017 after applying and interviewing with the Operations Manager. The new, shiny offices were located in my hometown of Sale – I was keen to find a job not too far from home that would still challenge me and introduce me to new situations. I'm very glad I found it.
I had to say, I imagined an office filled with dusty computers and grey cardigans with a row of antique scanners whirring in the corner. However, the first thing you see on entering the office are walls draped with colourful posters displaying the company values and inspirational slogans from the likes of Sir Alex Ferguson and Douglas Adams. In the interview, I was asked the usual questions about my experience in administration, but also about my hobbies and my life outside work. I was even asked what kind of animal I would be in an office environment. I said I'd be a lion. (Fierce and bossy!) I got the call later that day that I'd gotten the job and was ready to let my inner lion come out of its cage!
Initially, I was hired into the Business Support Officer role. I quality assured specification units and regulated/endorsed certificates for posting out to the huge range of centres we work with located all over the world; put hours worth of practice into learning the keyboard shortcuts provided by The Thomas Costigan himself; packed and posted the daily orders of assessment records and manuals; pestered our CRO, Ash Smith, for a free lift home after work; and provided answers to the questions put to me by our fantastic training providers. It was a great way to familiarise myself with every corner of the business so that when I was asked any questions, I'd know the answer. No two days were the same.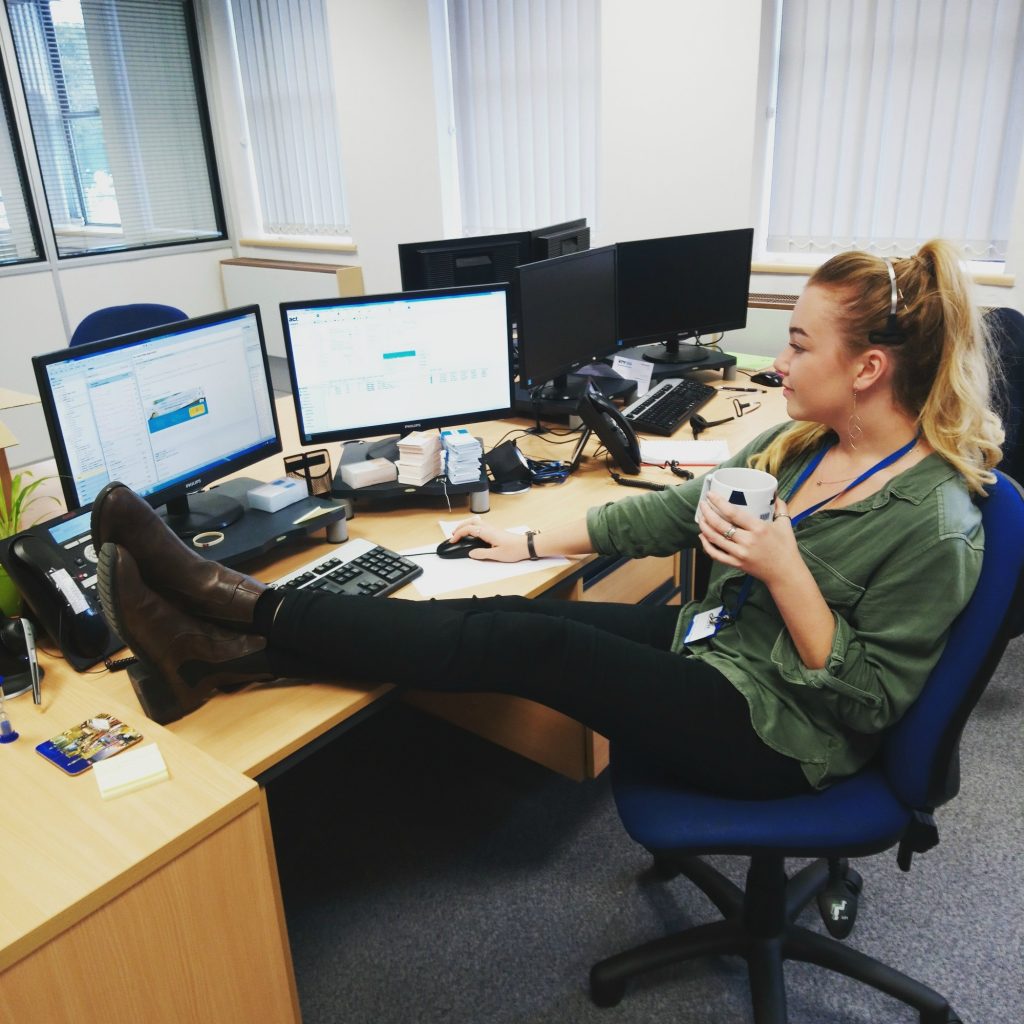 Within the office, we are all close friends and enjoy the odd night out. (Ash is the unbeaten Crazy Golf Champion and Matt, our Business Development Officer, always blows us away at karaoke.) Our company culture is very enriching, and it's great to know where the company is from and where it's going at the same time.
TQUK's keen to see its staff develop and they encourage us to work in other departments to get a real sense of what each of us does. This is a great opportunity to find the department you enjoy working in most. As a result, I've recently been promoted to End-Point Assessment Officer after only 5 months with the company. An End-Point Assessment (EPA) is essentially a GCSE-style examination process that offers confirmation of knowledge, skills and behaviours for a particular job role once the apprenticeship training has been completed. Now, I'm at the forefront of the newest strand of the business. I am managing the situational judgement test process, providing feedback to apprentices, interviewing assessors, discussing EPA with employers and training providers. My days are busy and rewarding.
The last 5 months have hugely increased my understanding of the mechanics behind an awarding organisation like TQUK. I've had a fantastic time attending the Heart Safe Awards 2017, taking on a new job role and receiving encouragement to do qualifications with the company that will allow me to develop professionally. These qualifications included the TQUK Level 2 Award In Cardiopulmonary Resuscitation And Automated External Defibrillation (RQF) and the TQUK Level 3 Award In Emergency First Aid At Work (RQF).
Hopefully, my future at TQUK will be filled with new, exciting prospects and endless free doughnuts from Matt. For now, Holly Kowalski-Hicks – End-Point Assessment Officer – signing out.