As per our previous communication, also available on our blog post page,  TQUK altered the process for issuing End-Point Assessment results on the 1st April 2022. 
The new auto process means that results are now available to view and download by simply logging into EPA Pro, rather than being issued via email.
This change is in line with our aims of driving efficiency, protecting Apprentice information through a secure platform, and is also part of an ongoing and exciting review to officially reduce the SLA for issuing End-Point Assessment results.
                   Watch this space – An official SLA update is coming soon!
This change in the process means that TQUK no longer issues results via email. Results are now uploaded to EPA Pro within 10 working days of the final EPA Component concluding.  Therefore, you can view results by simply logging into the EPA Pro Management suite. 
Results will be available to view and download from the files section, located within each Apprentices' profile. Preview below.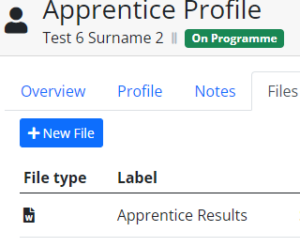 Bespoke Result Reports
In-App notifications will pop up in EPA Pro when a result is available. However, if you would like a bespoke results report setting up, containing a daily report of all available results that were uploaded the day before, please contact us at epasupport@tquk.org and a member of our Customer Service team will be happy to support with EPA Pro reporting. 
Creating additional sub-users on EPA Pro
All providers have access to creating additional sub-users on EPA Pro, this feature will allow further access rights for multiple users to log in and view results.
If you have any questions or require support with creating sub-users on EPA Pro, please feel free to contact us at epasupport@tquk.org.
Sharing feedback and grade outcomes with Apprentices
We would like to offer a reminder that all grades and supportive feedback must be shared directly with the Apprentice when their results are published on EPA Pro. We have recently received an increase in the volume of requests for feedback to be emailed directly to Apprentices. Please note that TQUK does not send grades or feedback via email. 
If you have any questions or require additional support, please contact us at epasupport@tquk.org or call us on 0333 358 3344